16 October 2020 | Page has been updated with information about opening hours at the Vatican museum from 2 November to 31 December.
18 September 2020 | Page has been updated with Colosseum COVID-voucher information.
24 February 2020 | Page has been updated with links to report on coach plan impact; see Access and Mobility below.
If you have updated information please contact policy@etoa.org.
Hot Topics
Rome city council has updated existing legislation that dates back to 1946 with the objective of improving city life for residents and tourists. Reports have been made that the legislation is being enforced and fines have been imposed. The official legislation can be found here and here.
Violations may impose a temporary ban from the area and a fine from €50-450. We encourage members to pass on the information to their clients to avoid fines.
August, 2019
Members have reported that contracted guides providing pre-booked guided tours of the Colosseum are being approached outside the Colosseum by the local police to check that they have not sold the tickets on the street, which is now illegal. The police may request a list of participants for proof. We recommend members to carry necessary paperwork with them to avoid unnecessary disruption of the tour.
List of prohibitions:
Jumping into water fountains

 

Walking around bare-chested

 

Attaching 'love padlocks'

 

Messy eating around historic monuments

 

Touching the metal spout of public water fountains when drinking from them

 

Illegal street-trading and ticket-touting outside tourist sites

 

 

Organised

 pub crawls

 

Advertising 

"skip-the-line" tours outside historic monuments

 

Take prams and suitcases up or down historic steps (such as the Spanish steps)

 
Tax
The tourist tax (tassa/imposta di soggiorno) is an overnight accommodation tax levied to visitors.
Please click on the right hand banner to find out rates and further information.  
Attractions
These attractions are selected due to high demand and/or operational issues. If you think we should include others, please contact policy@etoa.org.
Attractions in Italy outside of Rome can be found here.
Attractions in Venice can be found here.
Attractions in Florence can be found here.
If you are a member attraction of ETOA and would like your attraction featured on this page, please contact policy@etoa.org.
COVID-19: October 2020
Information about visiting the Vatican museum at current times can be found here.
Opening hours from 02 November to 31 December here.
Information about groups and guided visits from 14 September:
The museum sent out an update on 2 September about upcoming changes. Some of the updates are:
Groups can be booked up to 20 pax plus guide
It is the responsibility of the guide to ensure social distancing is kept
Whispers are allowed and mandatory for groups over 10 pax
Payments to be made on the day or via a reservation by emailing ingressi.musei@scv.va
Tickets
To book tickets for the Vatican museum, please follow this link.
2021 ticket prices for the Vatican museum and Ville Pontificie are now available and can be found here:
To apply to become a Tour Operator with accreditation, please contact help.musei@scv.va. It has been reported that an ETOA membership certificate may assist with the accreditation process. If you do not have one, please contact info@etoa.org.
The current practice is that the museum allows up to a 20% increase to groups on the day, subject to availability. If numbers are lower than originally booked, only the booking fee will be charged.
Opening hours
General opening hours can be found here. This page includes information about temporary and extraordinary closures, which are sometimes only announced with very short notice. A full calendar for 2020 opening and closing times is found here, including night openings. Opening hours are expected to be extended in 2021 by one hour in the afternoon, though this has not yet been confirmed. Every Wednesday St. Peter's Basilica is closed for visitors due to the papal audience.
Overall capacity is fixed at 35,000 per day.
Groups
Vatican has announced new rules for group bookings, in effect from 04 November 2019. The initial main change was a reduction to max. 37 pax per group. On 30 October 2019, a new announcement was made increasing this number to 42. The changes include:
Group size limited to 42 pax per group can be booked
There will still be a 20% tolerance on ticket numbers (maximum up to 50 pax)
Opening of ticket reservations has changed from 24:00 midnight to 12:00 noon Italian time.
We have been in contact with the museum to clarify the new regulation and to understand the reasons for this change. The changes are based on feedback and complaints from visitors, operators and the media. The changes are a part of a larger project to improve the conditions for visitors, which over time should include installation of AC in the museum.
The museum would like to hear your feedback and we have agreed with them to pass on any feedback we receive from our members. Please contact policy@etoa.org.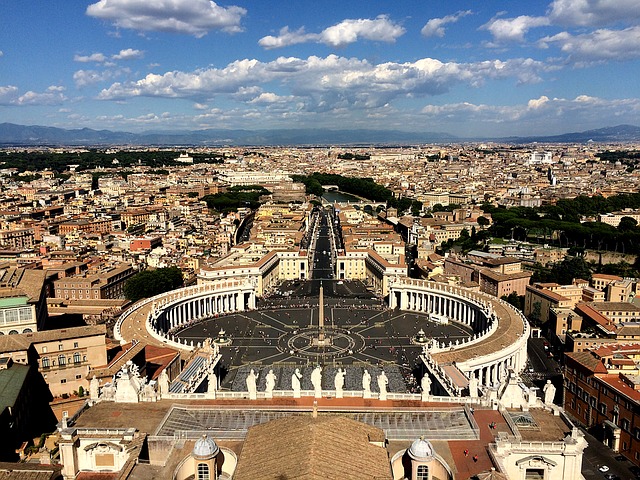 COVID-vouchers: 18 September 2020
After communication from Coop Culture in July we reported that the Covid-vouchers will be transferred to a voucher credit, which could be used for future bookings at Colosseum, Roman and Imperial Forum and that these bookings did not have to match previous bookings (e.g. group size or ticket type).
This is no longer the case; it has been confirmed by Coop Culture that Covid-vouchers must be used for the same ticket types as initially purchased:
"In the case of the Colosseum Archaeological Park, it will be necessary to use the credit for visits to the Colosseum's underground and evening visits for new purchases of the same type. Normal group entrance tickets must be used for group entrances up to a maximum of 20 people or for individual tickets going forward.
Two different payment methods are available on the B2B platform:
ordinary payment
payment with the covid voucher
The two payment methods are linked to the two different credits: ordinary and covid voucher, which will be monitored by the Coopculture administrative office. In the event that the covid voucher credit is used improperly, we will automatically cancel the reservation and purchase the ticket with the correct payment method, deducting from the ordinary deposit account."
Further information about visiting the Colosseum at current times can be found here.
Current measurements include:
Access to the Colosseum is exclusively from the Valadier Entrance
While the capacity of the Colosseum is normally 3000 at any time, it is now only possible to enter up to 20 people every 15 minutes and
600 people will be allowed in per day
Visitors will be accompanied by a staff member throughout the visit
Wearing a mask is compulsory
Only two tickets are currently available:
Full price 16 euro, valid for 24 hours for Colosseum, Forum and Palatine
 A.R.T. (Afternoon reduced ticket) € 9,50, valid from 2 pm 14.00 until closing time of the sites.
General information
[below information is from pre-COVID-19 crisis; the page will be updated when we know more about the 2021 regulations]
For tour operators interested in becoming a Grandi Clienti or looking to speak to the groups department, please follow this link to learn more.
If operators need to add additional tickets to their reservations, more tickets are be released three months, one months, 7 days and 1 day before the time of the reservation.
If tickets are available for the specific time slot, they can be added either online (3 months to 8 days prior) or by contacting the call centre 7-1 day before the date of the reservation.
If accredited local guides would like free access, they can apply for the 2019/2020 permit here. The cost is €20.
The hourly capacity for the Colosseum is 3,000 pax. Up to 90% of all tickets are sold via their B2B platform. 10% of the tickets are reserved for individual visitors.
Ticket updates for 2020:
On 20 December 2019, new ticket options were announced which are valid from 1 January 2020. The Imperial Forums are now included in all ticket types. No price increase was mentioned for 2020 (last price increase was November 2019).
It was announced that Grandi Clienti are now restricted to purchase only up to 50 or 25 Full Experience tickets for each day. We are seeking clarification why this restriction has been introduced and have written to the Sovrintendenza, the official responsible for the archaeological site. We have expressed concern regarding the late notice period making it difficult for operators to plan ahead, affecting programme for 2020. We will update this page when more information is available.
| | | | | | | |
| --- | --- | --- | --- | --- | --- | --- |
| Ticket Type | Price* | Validity | Colosseum (scheduled time slot) | Roman Forum and Imperial Forums (no time slot) | Super sites w/fixed quote entry | Arena / Underground |
| Colosseum-Roman Forum-Palatine Hill | €16 | 24 hours from first use | ✔ | ✔ | (✔) extra cost of €4 on site | |
| Forum Pass Super | €16 | One day | | ✔ | ✔ | |
| Full Experience (Arena access)** | €22 | Two days | ✔ | ✔ | ✔ | Arena via Stern entrance |
| Full Experience (Underground access)*** | €22 | Two days | ✔ | ✔ | ✔ | Underground via Stern entrance |
* Price excludes a €2 online booking fee per ticket.
** Available online and via call centre: Each customer can book a maximum of 50 items for the same date.
*** Available online only: Each customer can book a maximum of 25 items for the same date. Each customer can book a maximum of 6 items for the same time.
Free admission days 2020:
Free entrance on the first Sunday of the month will be applicable January to March and October to December. It is not possible to book tickets in advance for these days. Furthermore, some days during the year there are additional days with free admission and without pre-sale:
9th of May
5th of June
29th of June
23rd of September
4th of October
4th of November
21st of November
18th of December
Information opening hours can be found here. Tickets are booked for specific time slots of two hours. 375 visitors are allowed per time slot.
From 01 August 2019 the conditions for guided group bookings have changed and following rules will be in place:
A fee of €70 for guided groups of 5-15 people is applicable.
Maximum 5 groups are allowed per time slot (maximum 75 group visitors).
Group bookings must be done minimum three weeks in advance via phone or email.
Groups booked before the new regulations were introduced will not be excluded.
Headset rental is mandatory for groups (+ €1.50 pp).
School groups are excluded from the new regulations.
More information can be found here.
In July ETOA met with the ticket operator to understand the new regulation. It has been introduced as groups are experienced as a nuisance and are taking up to many spaces from the overall allocation. The ticket operator have received many complaints from operators, but the decision was made by the director of the gallery, with whom we are trying to connect.
We will continue to work with attractions and destinations and lobby for longer notice period, better industry consultation and better and equal conditions for tourism professionals. 
Guiding regulation
Italy regulates both guida turistica and accompagnatore turistico and defines them in such a way that their activities are mutually exclusive.
If you would like to read more about guiding regulations in Italy, please follow this link.
Please click on the right hand banner to read more about guiding regulations in Europe and the ETOA tour guide ID card. 
Public holidays and opening hours
On 29 June every year, Romans celebrate the Feast of St. Peter and St. Paul with many businesses and public offices being closed as this is a local public holiday. The day is normally celebrated by the Catholic church and festivities around the city include entertainment of different types as well as fireworks (usually commencing 21:30) and fairs.
Public transport and access may be affected.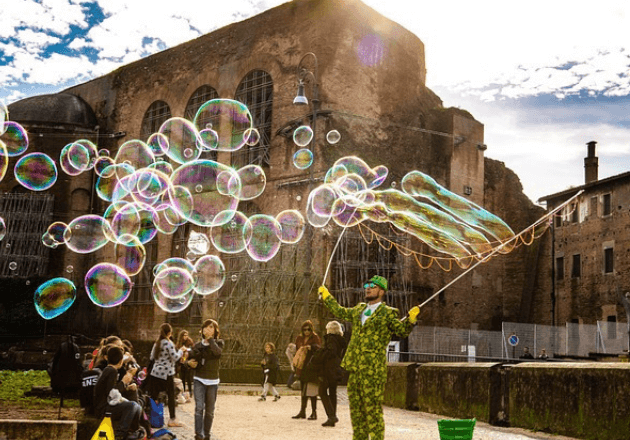 | | |
| --- | --- |
| 1 January | New Year's Day |
| 6 January | Epiphany |
| 25 April | Liberation from Nazi-fascism |
| Between 22 March and 25 April | Easter Monday |
| 1 May | Labour Day |
| 2 June | Republic Day |
| 1 November | All Saints |
| 8 December | Immaculate Conception |
| 25 December | Christmas Day |
| 26 December | Saint Stephen |
More information can be found here.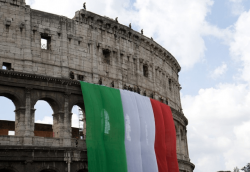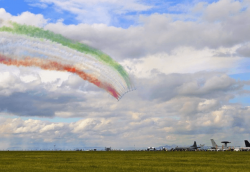 Events and seasonality
Euro 2020 football tournament will partly be held in Rome at The Olympic Stadium. Dates are TBC due to postponement of the tournament due to COVID-19.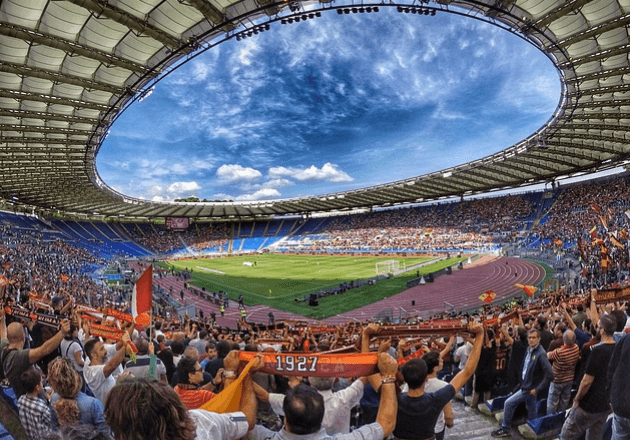 ETOA activity
ETOA Country Representative Jorge Traver and Market Specialist Nadia Falchi are focusing on developing the local membership base as well as our relationship with local authorities, attractions and other stakeholders.
On 18 July 2019 ETOA held a drinks reception at Residenza di Ripetta celebrating ETOA's 30th anniversary. At the same time ETOA held its first working group meeting in Rome with participants from local member companies. If you would like to hear more or become involved, please contact policy@etoa.org.
In February 2020, ETOA will hold its first Italy focused B2B networking event, VIVA in Rome.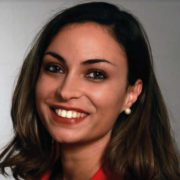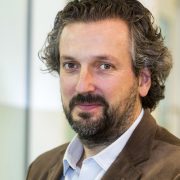 Resources & Tourism strategy
The City of Rome has recently launched its work and consultation process about its new tourism plan Futouroma 2019-2025 . This has included town hall meetings, a consultation process and presentations. The next step for the project is to use the findings from the various round table discussions and form a strategy and action plan. We are not aware of an official time line for this.
03 June 2019: Rome held an afternoon town hall meeting presenting the plan.
05 June 2019: Rome held a conference/consultation regarding the future of tourism in the city. A detailed report about the event here.
25 September 2019: Deadline to submit a request to participate in next consultation phase held 3-7 October 2019. More information here.
13 November 2019: Rome presented its findings from the consultation process and further strategy at La Nuvola Convention Center. The programme was sent out on 29 October. ETOA attended this event. One of the presentations can be found here and other presentations here.
In relation to the coach plan commencing 01 January 2019, ETOA released results from two surveys, press releases and statements:
This content is exclusive to ETOA members
Not a member yet?
The ETOA membership opens invaluable networking opportunities to your business, allows you to gain access to critical insights and information and contributes to the campaign for a better regulatory environment in Europe.
Connect with the global travel trade
Stay informed of insights, regulations and changes
Be supported in shaping the tourism landscape
Enquiry now