New multilingual visitor experience at Belfast Cathedral provided by Vox
Belfast Cathedral has launched its new audio interpretation programme for visitors, now providing self-guided tours in eight languages – English, French, German, Spanish, Italian, Portuguese, Polish and Mandarin, with a carefully selected local Belfast accent to provide authenticity for the English tour.
The cathedral chose the Vox Group to be its technical and content provider, selecting the company's 'Vox360' hybrid audio equipment for its dual 'self-guiding' and 'group-guiding' capability. The device may be used at one moment for FIT interpretation using its inbuilt optical reader then, at the flick of a switch, as a guiding system for groups. The legendary sound clarity of Vox equipment was also a factor in the winning bid, as cathedral or local guides can speak quietly, without disturbing the sanctity of the environment. The system is also simple to operate, meaning overseas visitors don't need complicated instructions before starting their exploration.
The project, which was funded through Tourism Northern Ireland's 'Immersive Technology' programme, with further support from the Friends of Belfast Cathedral and the Cathedral Board, will allow visitors to the Cathedral to immerse themselves in its history spanning the last 300 years.
Through stories retold in voice and music, they'll find a real sense of connection, not only to the building and it spirit, but to the wider role the cathedral has played for the city and its residents.
Tourism and Visitor Services Manager, Helen Graham, said: "We are delighted to have been able to create this fantastic multilingual guide for our beautiful cathedral in conjunction with Vox Group. It is super to be able to offer an engaging experience for our visitors, particularly those who are coming from overseas who previously would not have been able to connect with our space in the same way. Thank you both to our funders for supporting this project and to Vox for making everything so easy. Feedback on the guide has been incredibly positive, we're delighted with the end result and we are now looking forward to welcoming many more visitors over the rest of the 2019 season and beyond."
Ashley Jones, Director of Sales UK & Ireland at Vox Group said: "We are delighted to have been selected to provide this fascinating insight into the history and beauties of Belfast Cathedral. We worked closely with the cathedral team throughout the tender and bidding process and are very
happy the feedback from the public is so overwhelmingly positive. I'm sure that this initiative will have a positive impact both on the number of visitors to the cathedral, but also the on level of enjoyment which they have as they explore."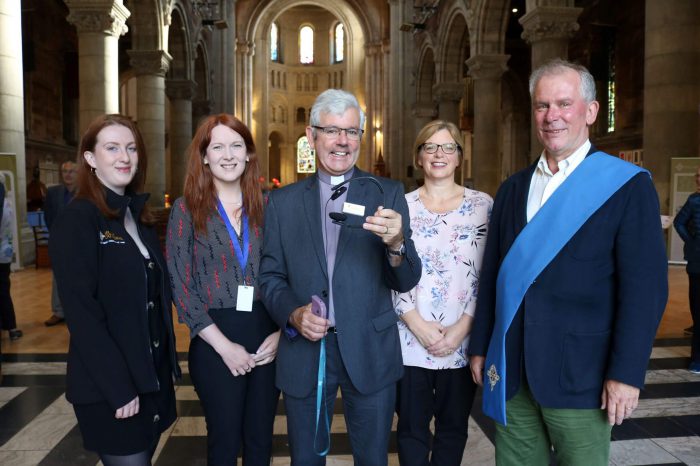 From left to right; Tourism and Events Assistant Lorna Towns, Tourism and Visitor Services Manager Helen Graham, Dean Stephen Forde, Tourism NI representative Judith Henderson and Treasurer of the Friends of the Cathedral, Mike Johnston.